Eating Out in Chideock and Seatown
You will be spoilt for choice at lunchtime and in the evenings for places to eat and drink near Warren House. All the pubs below are walkable from Warren House.
The George, Chideock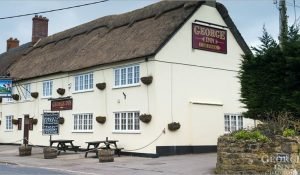 The George Inn in Chideock Just a short walk from Warren House, the newly-renovated George Inn is well-known for its good food and well-kept Palmers beer. On cold days, you can warm yourself by the log fires and eat comforting winter dishes from the specials menu, or on sunny days, sit outside to enjoy lighter fare like pan fried dishes with fresh seasonal salads or vegetables.
The regular menu offers a full range of sandwiches, ploughman's, starters and mains with an emphasis on hand-picked local produce and seasonality; traditional Sunday roasts; and wood-fired pizza nights – choose your own combination of favourite toppings.
The George is open every day, and serves food from 12 to 2.30pm and 6 to 9.30pm; Thursday night pizzas are available from 6 to 9.30pm. We recommend you book a table as the pub is always popular with locals and visitors alike.
The Anchor Inn, Seatown
The Anchor at Seatown This award-winning pub is set in a magnificent location just a few steps from the beach at Seatown – just the place to recuperate after a walk up nearby Golden Cap! It's only 20 minutes walk from Warren House B&B, and serves an imaginative menu featuring local seafood, meat and vegetables, sometimes including the chef's speciality of locally-foraged wild food ingredients. Catering for meat-eaters, fish-lovers and vegetarians alike, the seasonal menu offers a range of gourmet dishes, as well as filled rolls, ploughmen's' lunches, and children's dishes that make them feel grown-up!
To drink, you can choose real ale from Palmers, house cocktails, or browse the extensive wine and spirits list for unusual tipples.
The Anchor is open every day and serves food from noon till 9pm. It gets very crowded especially on sunny days in season, so you are advised to book a table.
The Clock House Inn, Chideock
The Clock in Chideock Reborn anew from the ashes of a devastating fire in time-honoured pub style, the Clock House Inn is another "local" just across the road from Warren House, so you won't have far to go for a meal. It's a traditional English freehouse selling a range of local beers and ciders , with skittles, darts and table football if you fancy some entertainment.
Hearty home-made pub food is on offer in large and small portions, plus a wide range of gluten-free and vegetarian dishes, catch of the day and chef's specials. The triple-cooked chips are a favourite after a bracing walk! Lighter dishes include sandwiches, baguettes, and jacket potatoes.
The Clock is open for food from 12 to 2.30pm and 6 to 9pm Monday-Thursday, and 12 to 9pm at weekends, when a takeaway menu is also available till closing time if you are late back from a day out.
An interesting, original and unique place to eat out in nearby West Bay is the Station Kitchen. The award-winning restaurant enables you to eat in a converted train carriage and is situated on the tracks of the old West Bay Station platform. The staff will welcome you aboard and take you on a delicious food journey!